Welcome to Crannog West Highland Seafood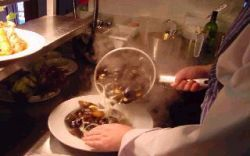 Crannog was formed in the 1980's on the principle that fishermen should be more directly involved in the marketing of their catch.
Preparing catches directly from the boats, our Smokehouse ensures quality and consistency of supply.
The ideal of integration was achieved in 1989 when we opened Crannog Seafood Restaurant on Fort William Town Pier. Our Booker Prize winning restaurant offers an abundant variety of locally sourced seafood.
Now through our online store, you too can enjoy the best of Scottish Seafood, fresh from the sea to your table within 24 hours.
Crannog Restaurant suffered severe storm damaged in 2005, and had to temporarily relocate for the summer season. Crannog will be returning home to Fort William Town Pier in early 2006.
Contact us
Dish of the day
Seal Island Cruises
Comments
and Feedback